Released in 2015 and used by many Yoga Teacher Training programs as their 'go to' Anatomy book!:
CONCISE BOOK OF YOGA ANATOMY:
https://www.amazon.com/Concise-Book-Yoga-Anatomy-Illustrated/dp/1583949836/ref=sr_1_1?s=books&ie=UTF8&qid=1469892481&sr=1-1&keywords=concise+book+of+yoga+anatomy
An Illustrated Guide to the Science of Motion  –Thank you, Paris models, for all the fun and hard work!
PUBLISHED ARTICLES:
New article post in Choice Health Magazine, UK and abroad:
Press Article From CHOICE WELL BEING 2012
Learn more about the secret muscles that cause chronic pain:
Reprinted with permission from BottomLineHealth.com: "The Secret Muscles that Cause Chronic Pain"
Published:
1) THE ANATOMY OF EXERCISE & MOVEMENT for the study of Dance, Pilates, Sport & Yoga by Lotus Publishing, UK, 2010
A 'Kinesiology made easy' text, it is written in a style that is understandable, with illustrations and technique explained to guide the reader through various exercises.
IDEAL FOR:
Coaches and Athletes
Exercise Science students and faculty
Pilates and Yoga enthusiasts
Dancers
Massage Therapists and other Body Workers
Teachers and students of Stretch & Strength Conditioning programs
Anyone who is interested in learning more about the human potential
View www.lotuspublishing.co.uk for full line of Body Works books
See REVIEWS for "The Anatomy of Exercise & Movement" on amazon.com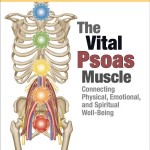 2) THE VITAL PSOAS MUSCLE
Connecting Physical, Emotional, and Spiritual Well-Being, released 8/2012
OVER 20,000 COPIES SOLD
Buy it at this link at Amazon.com