YOGA AS A SCIENCE

"In the same way that the physical practice of yoga so effectively benefits your body and mind, the larger science of yoga is similarly powerful in unlocking the vast potentials of your body, mind, and spirit to help you achieve your best life imaginable."
Excerpt from The Four Desires by Rod Stryker
When practicing asanas, we can incorporate the yamas* of ahimsa (non-violence) and satyam (truth) to create less strain on the physique and more harmony in the body. The teacher and student both need to keep awareness of alignment, discomfort, and ease vs. effort at the forefront, staying true to their own experience, listening to the body, and causing no harm.
What Do We Know?
We know that everyone is different, that no two bodies are identical…this is where the instructor has a large challenge. With a class in front of you, different ages, sex, and even levels will be apparent. The instructor will need to adapt their anatomical knowledge to each student individually; this is a scenario that is often only found in a private session, where there is time to offer singular help. So how do we do this in a larger class? We can offer our anatomical knowledge and training to the full class, with sensitivity to the challenged student (one who might have an injury or specific condition that needs attention). This can be done quietly, as a teacher leaves the mat to offer individual advice.
YOGA MAGAZINE.COM; BODY_DEC15.indd 50
Some Anatomical Principles In Practice
At the spine, there are a few important limitations to mobility that can be mentioned in class. In the lumbar area, spinal rotation is limited to 5 to 10 degrees. As we go into a twist (which is spinal rotation) it should be mentioned to turn from the mid back and up, as many students tend to rotate more from the lower back. Cuing the twist from the thoracic instead of the lumbar will help decrease stress on the lower back. In an asana like Bharadvajasana (Seated Twist), you can see and feel the turn coming from the mid back and neck, as the lower back stabilises more than rotates.
At the shoulder joint, range of motion can be affected by different conditions such as tightness, impingement, or injury. Knowing what the situation is will help the instructor prompt the student to either work on stretch, or strength, or both. Using the example of Ardha Purvottanasana (Reverse Table or Plank), the front of the shoulder stretches, as the arms strengthen to support the pose while the shoulder girdle stabilises.
How to do this should be taught in 200 and 500-hour yoga teacher trainings. You can also find more specific information in The Concise Book of Yoga Anatomy. As instructors, we need to be responsive to the needs of each person we teach. I do find that in the majority of cases the information we impart is useful to the entire class, as long as we do not single out any particular person and cause them uneasiness. Our capacity to be honest and kind is something we become more skilled at as we practise yoga as a way of life. Let us incorporate this into our classes and keep yoga as it is meant to be: a joyful experience and practice that leads to a better understanding of what is really important, physically as well as spiritually. The meaning of the word yoga is the union of the two.
*Yamas are the first of the eight limbs of yoga compiled thousands of years ago by Patanjali in the Yoga Sutras. These limbs are progressive steps of self-discipline that lead to the purification of body and mind.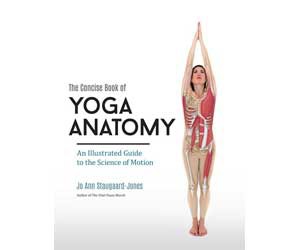 Written By:
JO ANN STAUGAARD-JONES
JO ANN IS AN AUTHOR AND INTERNATIONAL EDUCATOR, A PROFESSOR OF KINESIOLOGY AND DANCE, CERTIFIED PILATES AND E-RYT500 YOGA INSTRUCTOR, WITH A MASTER'S DEGREE IN DANCE AND MOVEMENT EDUCATION FROM NYU. HER POPULAR BOOKS INCLUDE THE VITAL PSOAS MUSCLE, AND THE ANATOMY OF EXERCISE AND MOVEMENT FOR THE STUDY OF DANCE, PILATES, SPORTS, AND YOGA. SHE HAS ALSO WRITTEN FOR JOURNALS INCLUDING AROMATHERAPY TIMES AND BOTTOM LINE HEALTH. JO ANN CURRENTLY TEACHES INTERACTIVE MOVEMENT WORKSHOPS AND TRAININGS ACROSS THE U.S. AND INTERNA­TIONALLY. THESE CAN BE VIEWED AT MOVE-LIVE.COM, HER INTERACTIVE WEBSITE.